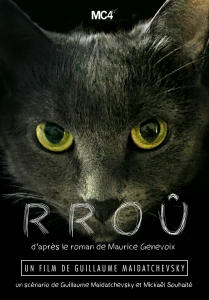 With Maurice Genevoix's internment at the Pantheon, GEDEON Media Group is pleased to announce the film adaptation of PROU, this world-renowned author's favorite novel. An ode to nature, to liberty, lived through adventures of a cat who decides to return to the wild.
Its adaptation will be undertaken by Director Guillaume Maidatcheysky and produced by Jean-Pierre Bailly of MC4 and GEDEON MEDIA GROUP, for a release at the end of 2022.
This film project plunges us into the intimate and subjective life of a cat, relentlessly searching for his own vision of the world. It's also an ode to nature and a plea for the right to freedom, no matter what the cost.
PITCH
Rroû, a lively and curious kitten, is bored of his life as a house cat in the heart of Paris. His destiny shifts gears when Clémence, a ten-year-old girl, brings Prou to her house in the countryside. Facing the wild, Prou must adapt and fight to survive, ultimately finding his true place as a feline. An extraordinary adventure that will change him for the rest of his life!