New Art Experiences and GEDEON Programmes join forces to create the IMMERSIVE ART BOX, the very first outdoor itinerant and immersive art center in France.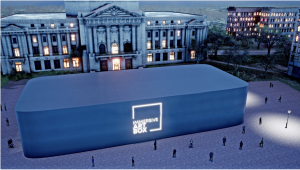 Our objective: to propose a new cultural offer regionally, for the local public and to democratize the access to immersive experiences.
The Immersive Art Box, conceived and designed in an eco-responsible manner, will be installed in the heart of cities, in central squares, in order to be accessible to as many people as possible, and will propose exhibitions in neighborhoods that are far from the current cultural offering. The box will be a way for communities to create a cultural event over several weeks and will help revitalize city centers. Several cities have already expressed their interest in hosting the Immersive Art Box.
Conceived by Michael Couzigou, former director of the Atelier des Lumières in Paris, joined in association with Jean Philippe Corrigou, lighting designer and urban director, the project is now jointly co organised by GEDEON Programmes, a French audiovisual production company, creator and producer of immersive exhibitions.
The cultural program of the box will allow the public to experience new immersive digital experiences around the themes of history, heritage, art history, literature, science or even nature and environment.
contact@immersive-art-box.com