After an inauguration in La Rochelle, where it welcomed more than 10,000 visitors, and a stop to Toulouse and Dunkirk, Expo Ocean is moving to Lisbon from 25 June to 10 July, where the UN Conference on the Oceans is being held.
An exhibition designed and produced by GEDEON Programmes
A wandering and immersive experience, unique in France!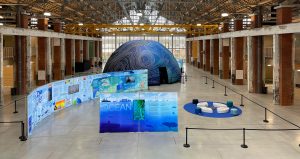 Launched by the Ocean & Climate Platform, this exhibition received support from the Ministry of Marine Affairs, and accreditation and funding from the French Presidency of the Council of the European Union. Aimed at the general public, Ocean is a wandering and immersive experience, and is unique in France. It invites visitors to dive into the ocean's depths and its tropical coral reefs. A one-of-a-kind experience to learn more about the maritime richness of Europe!
Its immersive and visual scenography comprises an over 40-meter-long graphic mural, accented by short films, along with an immersive dome where a feature film, The Ocean's Beating Heart, will be projected at 360°. Fully translated in both French and English, the exhibition strives to be accessible to younger audiences by including playful information for children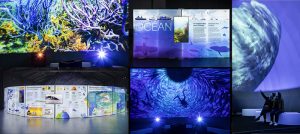 Director : Olivier Brunet
Scenography : Designers Unit
Music : Audrey Ismaël