The Winners will be revealed during the SILBERSALZ Festival on September 17, 2021.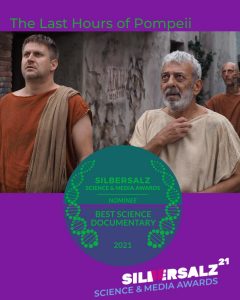 The Last Hours of Pompeii
On 17 October 79 AD, the city of Pompeii was buried under lava after the sudden eruption of Mount Vesuvius. Today, the mythical site has yet to reveal all its secrets. A new excavation campaign is being conducted, the most significant in 70 years and one of the major archaeological investigations of the twenty-first century. The film unveils the sumptuous frescoes and mosaics that adorned the excavated villas and uses historical reconstructions in natural settings to show, hour by hour, how the city and its inhabitants were buried under a mantle of ash.

World Congress of Science & Factual Producers – WCSFP 2020
BEST MULTI-PLATFORM FACTUAL PROJECT
DIRECTOR : Pierre Stine
WRITERS : Pierre Stine, Flore Kosinetz, Michela Guberti
DISTRIBUTION : France 5, Planète+, RTBF, ZDF, CuriosityStream, RTS, SBS, SVT, NHK, Ceska TV
CO-PRODUCTION : GEDEON Programmes, Parc Archéologique de Pompéi, CuriosityStream, RAI, AT Prod, RTBF Télévision belge, EBU Coproduction Fund; Avec le soutien de Creative Europ – Media, du CNC, de la Procirep-Angoa.
LENGTH : 90', 2×50'
YEAR : 2019