Acclaimed docu-series Planet Chef, 11 episodes over 2 seasons, having aired in 8 countries and gathered millions of viewers, is finally available on US screens via MAGELLAN TV!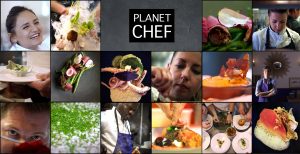 Whether they were born in different parts of the world, they all learnt how to cook in France before opening up their own restaurants. Meet these young and creative chefs who drew their know-how from their two gastronomic cultures. Planet Chef takes the viewer on a journey filled with a passion for tastes and texture, revealing the secrets of their cooking and taking us to the places and cultures that inspired their culinary art.
Discover the new companion article written by KEVIN MARTIN  for Magellan.TV 
To all gastronomy fans and foodies, Planet Chef is a must-see. From magnificent dishes to beautiful landscapes from all around the world, the show is a visual wonder. It is an intimate and inspiring dive into the lives of those passionate chefs entirely devoted to their cookery and eager to bring their touch to French gastronomy. Tune in on March 26 to immerse yourself in our chefs' universe.
DIRECTORS : Stéphane Carrel, Antoine Coursat
WRITERS : Stéphane Carrel, Camille Labro
DISTRIBUTION : Planète+
CO-PRODUCTION : GEDEON Programmes, Planète+
LENGTH :11×52' (2 saisons)
YEAR : 2018-2019-2020
© GEDEON Programmes – 2021