The exhibition takes place this year from April 27, 2022 and is located at Paris Expo Porte de Versailles.
This immersive cultural experience of over 1,000 m2 allows visitors to literally travel through a series of thematic vignettes. The capsule "Japan" by Pierre Goismier, produced by GEDEON Programmes is part of the selection.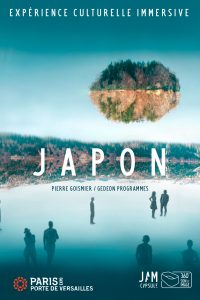 JAPAN: A large-format sensory immersion and visual performance
 With the JAPAN exhibition (designed by Pierre Goisimier), GEDEON Programmes offers a spectacular and emotional immersion into the Japanese culture at the heart of these monumental film projections. A journey spanning the 3,000-kilometre Japanese archipelago over four seasons, taking the viewer from the snow of Hokkaido Island to the turquoise waters of Okinawa. This is a discovery of the soul of Japan, filmed as closely as possible to the women and men who bring these traditions to life, who live in harmony with the nature that surrounds them, or who have developed unique practices. This immersive cultural experience will be displayed to the public through a monumental device called the JAM Capsule, which was invented by the company Athem who is equipped with a 4k video-projection device and a high-quality spatialized audio system. Each visitor will therefore be able to dive into the images projected on a surface of 2,500 square metres, covering the walls and the floor.
PRACTICAL INFORMATION
Date: from April 27th 2022
Opening hours:
Wednesdays and Thursdays, from 3:00 pm to 7:00 pm
Fridays and Saturdays, from 14:00 to 21:00
Sundays, from 14:00 to 19:00
Duration: about 50 minutes
Location: Paris Expo Porte de Versailles, pavilion 5.3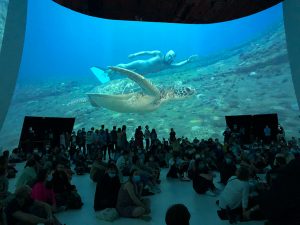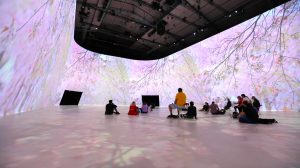 DIRECTOR : Pierre Goismier

COMPOSER : Audrey Ismaël

LENGHT : 40′

YEAR : 2020