Laurent Geslin's newest film, LYNX, is an official selection at the Locarno Film Festival, a major festival in the same standing as Festival de Cannes and the Biennale di Venezia!
The film premiered on August 3rd, for the festival's pre-opening at the Piazza Grande.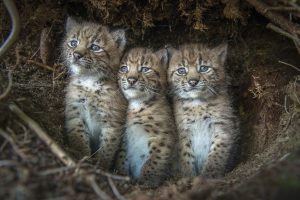 LYNX
Two lynxes meet in the forest of the Jura, France, and have three cubs (two males and one female). After many adventures, one of the young males is shot by a poacher, while the other is killed after being hit by a car. Not long after, the mother is taken by scientists whose mission is to capture lynxes and use them to repopulate other regions, especially in Germany. Although still young, the small female is left alone to face the winter. She meets a young male and they have two cubs. The adventure continues. What will become of them? This is the turbulent story of a family of lynxes, told with a bit of suspense and query.
Director: Laurent Geslin
Co-production: JMH & FILO Films et MC4 avec RTS – SSR SRG / TELECLUB / Ciné + / OFC / CNC / CINEFOROM / SUISSIMAGE / France Télévisions DISTRIBUTION / Gebeka Films pour la sortie au cinéma.
Length: 90'