Five years ago, Bertrand Piccard and André Borschberg traveled around the world without fuel, thanks to the Sun's energy alone, aboard the Solar Impulse 2 solar plane. For nearly six years, GEDEON Programs followed this fantastic human and technological feat, capturing everything from the beginnings of the project, to the flight, all the way to the mission's successful completion.
Flying 43,000 km over five continents and two oceans, the project gathered a team of more than 100 people, including engineers, meteorologists, air traffic controllers, logisticians and communicators, who were responsible for ensuring the aircraft's safety and that the mission ran smoothly. To honor this extraordinary adventure, capable of inspiring environmental policies and future societies, GEDEON Programs is granting open viewing access for the film "Solar impulse, the impossible world tour" for one week, from July 19 to 26.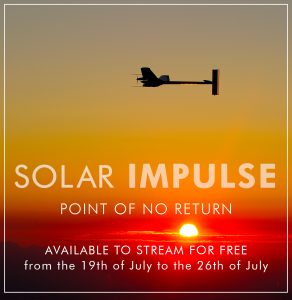 Soaring at 28,000 feet without a drop of fuel, nothing is predictable. Not the weather, not the technology. And certainly not the fate of a man, alone for five days in a fragile, first-of-its-kind aircraft with nothing but ocean below.  Point of No Return takes you behind the headlines of the first solar-powered flight around the world where two courageous pilots take turns battling nature, their own crew, and sometimes logic itself, to achieve the impossible. Not just to make history, but to inspire a revolution.
Watch the full movie now!